Dovetails on Bandsaw, Scrollsaw and Router Table
Get the look of hand-cut dovetails without the cost of high-end router jigs.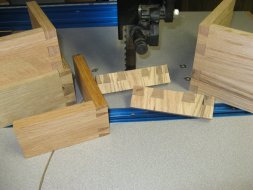 Folding Sawhorses
Finally - leightweight, folding, adjustable-height sawhorses!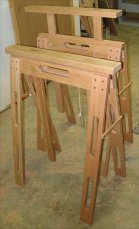 Mobile Base for 15" Planer
Unable to find a design for a mobile base for my 15" planer that includes fold-away extension tables, I designed my own.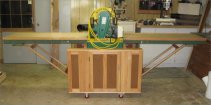 Crosscut Sled
Based on the Precision Crosscut Sled from ShopNotes #99,
my design
allows for a 66" crosscut.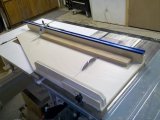 Mobile base for bandsaw
Not happy with the available commercial solutions, I built
this base
for my Jet 16" bandsaw.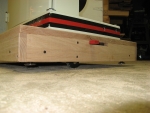 Foolproof tenon tuning
Acheiving the perfect-fitting mortise on a consistent basis proved challenging for me - until I developed
this technique
that ensure the tenon face remains parallel to the stock and allows the tenon thickness to be adjusted in tiny increments.
Simple router table
Friday February 20, 2004
This simple router table provides the basics that every router table should have - a flat surface and a fence that is both flat and perpendicular to the table. Additionally, it can be flipped over to provide a convenient surface for clamping small to medium pieces for handheld routing. It can also be used in a horizontal routing configuration, which is great for mortising and raising panels (with vertical panel-raising bits).

Inspired by an accomplished woodworker, author and instructor, the table uses a proven design to deliver solid performance without unnecessary bells and whistles. Best of all, the table can be easily built for <$35 in a weekend with materials from your local home-improvement store.



Updated shop tour
Sunday February 1, 2004
I've cleaned up, reorganized, built some storage and got some new stuff...so I've updated the
tour
.
Review: 66-piece MLCS Millennium Router Bit Set
Thursday December 4, 2003
This
review
conveys my impressions of this bit set...along with my thoughts on multi-bit sets, in general.
Corner-clamping fixture
Saturday November 29, 2003
| | |
| --- | --- |
| While this corner-clamping fixture is neither an original nor a unique idea, it is a great solution. Besides cutting down on the number of required clamps, it reduces the need for diagonal measurements, saves time and vitually guarantees 90deg corners. | |

Shop-built tail vice
Sunday November 9, 2003
| | |
| --- | --- |
| My workbench has been needing a tail vice for years. The $180 Veritas twin-screw tail vice is exactly what I wanted, but my budget did not have room for it, so I opted for this shop-built solution. | |
Porter Cable Brad-nailer / Compressor combo pack review
Thursday October 9, 2003
What could possibly be better than a shiny new tool?

A shiny new free tool!

After winning this from The Spalted Board, I feel like a true Normite!

Read more about it, here.



Carving Mallet
Sunday August 3rd, 2003
ShopNotes taper sled
Saturday August 2nd, 2003
| | |
| --- | --- |
| For tapering, ripping or safe cuts on small parts, this sled has already found many uses in my shop. The plans are from ShopNotes #33 | |
Sun-staining Oak
Thursday July 31st, 2003
| | |
| --- | --- |
| What a difference a few hours in the sun can make. | |
Uses for Scraps
Sunday July 27th, 2003
Q: What does every shop have too much of?
A: scraps
Q: What does every shop need more of?
A:
these
Lumber racks completed
Saturday July 19th, 2003
| | |
| --- | --- |
| Over the last week, I made a lot of progress on my storage racks. I built three racks. One combines two areas for sheet stock with some space for boards above (pictured at right). Another holds about 600bf of boards. The last holds large panel stock. | |
Shop plan
Friday July 11th, 2003
Now that I've managed to get my shop cleaned and organized (here's my first tour), it's time to start thinking about the future. By this, I mean that I need to analyze what I need out of my workshop and how I plan to achieve it.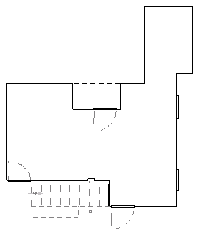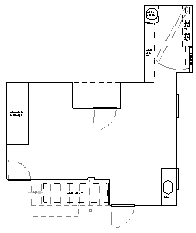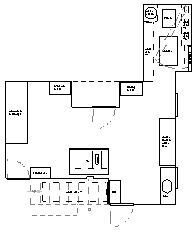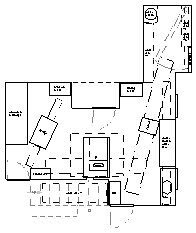 Shop tour
Sunday July 6th, 2003
| | |
| --- | --- |
| My first shop tour. I'm just getting started building a shop, so don't expect much. It's a strangely shaped area, so I drew a floorpan to help make sense of the photos. | |

Homemade safety switch
Sunday July 6th, 2003
Big lumber purchase
Sunday June 29th, 2003
| | | |
| --- | --- | --- |
| A retiring woodworker was unloading all of his lumber supply. So I took it off his hands for a small fee...along with a nice set of lumber racks. | | |
Unifence add-on
Saturday June 28th, 2003
| | |
| --- | --- |
| I really like the Unifence. I think it matches or beats other fences in every respect, except the inability to use jigs that slide on the fence. So I designed an add-on fence that allows the use of a variety of jigs and helpers. It is much bigger (and heavier) than the Unifience, so naturally I call it the Bigafence. | |