Shop tour
Sunday July 6th, 2003
Here is the basic layout of my shop, which is in a basement (walk-out) that is shared with a garage.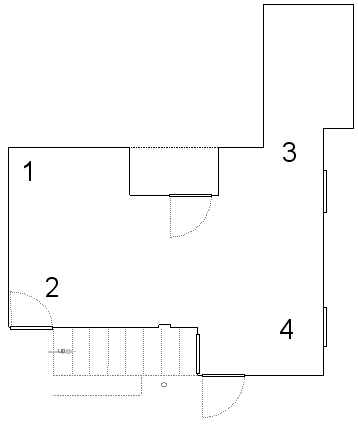 Corner #1 houses my main workbench. It was assembled from a neighbor's discarded kitchen cabinets. Behind the workbench is a small lumber storage rack made from scrap lumber - it currently holds ~100bf of walnut I had milled from a neighbor's downed tree. The shelves above it (above workbench) were assembled from shelving that originally lined the walls of my first shop (in a previous house). My auction purchase of Fine Woodworking and American Woodworker are on top, along with my collection of ShopNotes and Woodsmith. The black steel cabinet on the right wall is a $20 Harbor Freight clearance item and houses finishing supplies, glues and other chemicals. The 3-drawer chest below is a $10 garage sale special that holds small tools and rags. Small hand tools are in the red toolchest - mostly mechanics tools.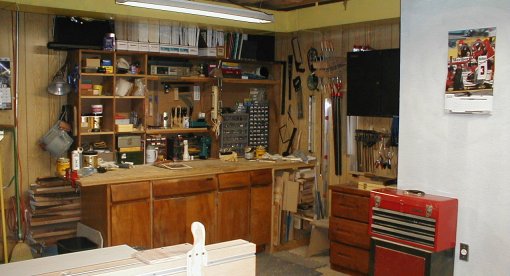 Corner #2 has my tablesaw. Behind the wall is an under-stairs storage area that currently holds 200bf of walnut for a bookcase project I hope to start soon. Don't ask about the wild paint on the wall...the neighbors tell me that the children of the previous owners were serious drug-users. I can't wait to paint over it :)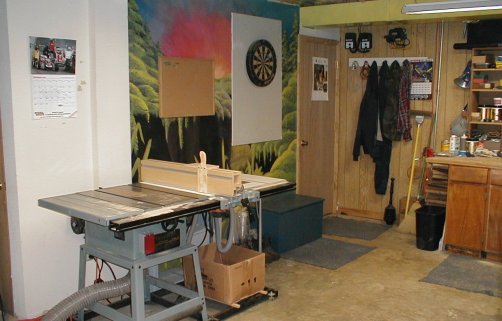 Corner #3 has some storage cabinets and my planer - an 80s 15" Delta clone (Total Shop brand) that I picked up for $400. It's old but works great! Beyond that is another small room that will soon serve as lumber storeroom. It is also where I store the planer and jointer when not in use.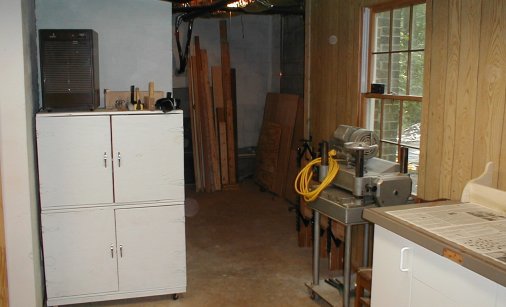 Corner #4 has the duct collector (hidden behind table saw), jointer and assembly table. The assembly table was a clearance special at HD - $25. The cabinet in the corner is a $5 garage-sale find that will someday hold a bench-top drill press. Outside the window is a firewood rack that doubles as a drying rack for oily rags. And of course a TV in the corner - for College Football saturdays in the shop!